"Fear The Walking Dead" surfaces on Blu-Ray and DVD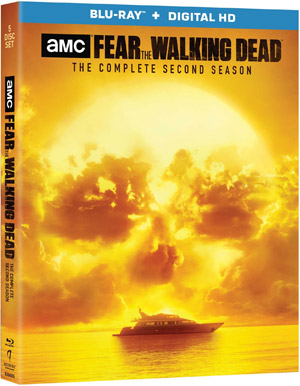 Anchor Bay Entertainment and AMC have just revealed information about the upcoming release of Fear The Walking Dead: The Complete Second Season, bringing the television show to Blu-Ray Disc and DVD in December.
Living in the same universe as "The Walking Dead," "Fear the Walking Dead" Season 1 explored a family who watched a burning, dead city as they traversed a devastated Los Angeles. In Season 2, the group aboard the Abigail is unaware of the true breadth and depth of the apocalypse that surrounds them; they assume there is still a chance that some city, state, or nation might be unaffected—some place that the Infection has not reached. But as Operation Cobalt goes into full effect, the military bombs the Southland to cleanse it of the Infected, driving the Dead toward the sea. As Madison, Travis, Daniel, and their grieving families head for ports unknown, they will discover that the water may be no safer than land.
The release features all 15 episodes from the show's second season, along with a number of bonus features. Among these supplements you will find Commentary Tracks and Deleted Scenes, as well as a Q&A with Cast and Creative Team from PaleyFest LA 2016.
In addition, the release contains Flight 462 Webisodes and the Featurettes Inside "Fear the Walking Dead" and The Making of "Fear the Walking Dead".
"Fear The Walking Dead" arrives in stores on December 13 for $79.99 on Blu-Ray Disc and $69.98 on DVD.