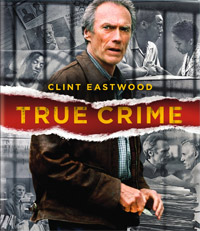 True Crime (1998)
Warner Home Video
Cast: Clint Eastwood, James Woods, Denis Leary, Isiah Washington
Extras: Featurettes, Theatrical Trailer
Rating: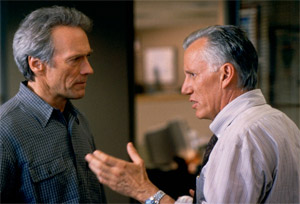 Looking over Clint Eastwood's long-standing career, one cannot help but be impressed. Whether it's his career as an actor or his work as a director, Eastwood is almost like malt whiskey. He has gotten better with age.
Hard to imagine, but "True Crime" was Clint Eastwood's 21st film as a director and his 41st as an actor, and just when you thought you had seen all the facets of him, he is adding a new one. It is for that very reason that I am always eager to watch and review Eastwood's films and when Warner Home Video sent over a Blu-Ray copy of his 1999 film "True Crime," I knew I just had to give it a renewed look.
When you are writing for a newspaper, much of your day is becoming a relentless routine and oftentimes the news you're mangling lose meaning in the day-to-day trot. Steve Everett (Clint Eastwood) has been caught in this rut and hardly anything exciting happens in his life these days. Apart from chasing women and having their aggravated husbands chase him, Everett has just successfully renounced alcohol a short time ago and the only light in his life is his little daughter.
?Following the death of a colleague, Everett is assigned to pick up her routine sidebar story to cover the last hours of an inmate on Death Row, Frank Beachum (Isiah Washington). Beachum has been accused of shooting a convenience store clerk and her unborn child and has been sentenced to death, now awaiting his execution while saying goodbye to his wife and daughter.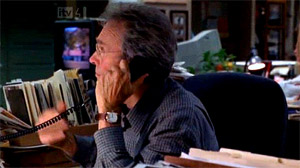 As soon as Everett begins research on the case, by merely scratching the surface, he instantly gets a sense that something about this case isn't right. He realizes that Beachum is innocent, just as he had always claimed to be, but no one believed him. There's no point trying to convince his editor Bob (Denis Leary), because he knows Everett is having an affair with his wife, so Everett goes higher up. His editor-in-chief (James Woods) doesn't take him seriously either, but cuts him some slack, in the hopes to get a juicy story out of it.
With only a few hours left before the execution, and adrift in the mess of his own life, Everett attempts to find vital clues that could help keep the innocent man alive.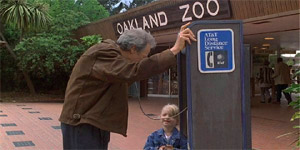 Many very good things culminate in "True Crimes" and it is an exemplary film that allows you to study sophisticated filmmaking, remote from the fast-paced, glitzy and shallow films we have seen all too often in recent years. With a lot of style, Eastwood creates a story that ties two men together without them even knowing each other. Running the two story threads alongside each other, he takes us into the worlds of the convict and the writer, brilliantly creating a dramatic story that keeps building by the minute.
Eastwood has a magic touch when it comes to pacing his films, and in "True Crime" you will notice that some scenes develop rather slowly to allow the viewer to think about what's going on, and to get emotionally attached to the people we see, while others move at a much more frantic pace.
From a moral standpoint, Eastwood shows us how Everett's perspective changes and how things he took for granted take on new values as he is forced to see the innocent man approaching his execution, practically devoid of hope to be saved. The film ultimately asks the question, who is committing the true crime in this case? Is it Beachum, the supposed murderer, our legal system, a racist jury who'd rather see a black man dead than seek the truth, Everett because he peripherally witnessed the case for months without doing anything about the injustice, or could it be all of us, idly watching things happen way too many times?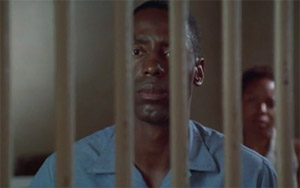 And finally, the acting is what adds the icing to this dazzling cinematic cake. We all know that Eastwood is a great actor and the seeming ease with which he plays Everett is remarkable. It is his restrained play that makes Everett even more dramatic and gives him the notch of intelligent wittiness the character required. The biggest highlight to me was Isiah Washington's performance as Frank Beachum however. Very much in control at first, the moment when he is separated from his daughter for the last time is a truly emotional performance. When the mask he put up for his little daughter eventually falls after she left the room, you get to see a man who is emotionally shattered within split-seconds in a scene that will stick in your mind for quite some time.
The snotty part of Everett's editor-in-chief is clearly tailor-made for James Woods. The delivery of his lines is too good to be missed and when he is literally spitting peanuts from his Snickers bar at Eastwood while mocking his ambitions with a full mouth, he is clearly top of his game and enjoying the situation.
At long last, Warner Home Video released "True Crime" on Blu-Ray Disc, offering up the film in high definition. The transfer is meticulously clean and brings out the best of the film's beautiful photography. Using natural-looking lighting set-ups for most of the film, faithful color reproduction is extremely important for a production such as this one, in order to maintain its overall real-life look and feel which is essential for the viewer to connect with the subject matter. Fortunately, the disc does not exhibit any problems and exhibits absolutely natural flesh tones, warm colors and solid contrast. Shadow definition is also very good, giving the image plenty of visual depth.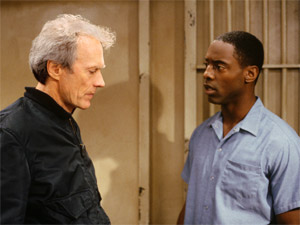 The disc's DTS 5.1 HD Master audio track is well balanced and makes good use of the surrounds, although, by its very nature, surround usage in this film is not very aggressive. Instead, the soundstage is wide and rich, mingled with many ambient sound effects that add realism to the scenery. Complemented by a score by Lennie Niehaus, the music in the film nicely enriches the images, once again highlighting Eastwood's penchant for jazzy scores, which works extremely well in this environment. Sometimes building the tension, sometimes more delicate and playful, the music always hits the right note.
The Blu-Ray edition of "True Crime" contains the same bonus features that were previously included on the DVD version. As such, you will find the interview featurette "The Scene of the Crime" on this disc, along with a visual essay called "True Stories" about some real life occurrences that built the foundation to "True Crimes", when a writer for the New York Times was once able to save a convict from certain death. Diana Krall's "Why Should I Care?" music video is also included in the package, as well as the film's trailer.
I was looking forward to revisiting "True Crime" and I have not been disappointed. Clint Eastwood proves over and over that he is a premier storyteller, finding interesting angles in every one of his subjects. With dimensional characters, skillful dramatic arches and top notch actors, he excels in every one of his films while getting more sophisticated with every attempt. This release from Warner Home Video is a great addition to every collection and should not be overlooked.