"Elementary: The Fourth Season" arrives on DVD in August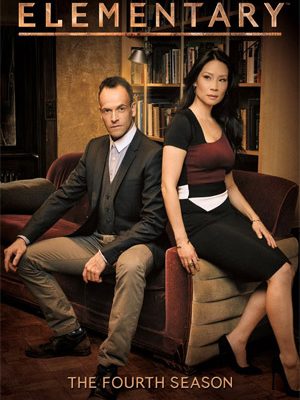 CBS and Paramount Home Entertainment have just announced the upcoming release of Elementary: The Fourth Season, scheduling the television series for release on DVD in August.
Jonny Lee Miller portrays the iconic detective Sherlock Holmes, and Lucy Liu captivates as his legendary investigating partner Dr. Joan Watson in the modern-day drama, "Elementary: The Fourth Season."
In the latest season, Holmes struggles to maintain his sobriety and attempts to keep his sanity despite the looming threat of a prison sentence. Meanwhile, the crime-solving duo continues to crack some of the NYPD's toughest cases when old enemies resurface, former files are reopened and new crimes run rampant close to home. Yet, the biggest obstacle the duo must face follows the unexpected arrival of Sherlock's estranged father, Morland Holmes (John Noble). Does he hold their best interest at heart or is he scheming for something far bigger than all of them combined?
The release also includes a number of bonus features such as insights from the cast and crew about the progression of the series in its newest season in the Featurette "The Sign Of Fourth", as well as an inside look at who and what it takes to be a villain on "Elementary" in "Villainy!".
A Commentary Track on the standout episode, "Miss Taken" is also included, as well as in "Mina, Cassie, & Ally". "Father Holmes" is a sit down with John Noble to discuss his role as Holmes' estranged father and the complicated relationship between father and son.
The release is rounded out by a Behind the Scenes Look at the creation of one of the season's most extraordinary episodes, "Wag the Dog: Hounded."
"Elementary: The Fourth Season" will be in stores on August 23 for $29.99.