"Snow White And The Seven Dwarfs" arrives as a Signature Collection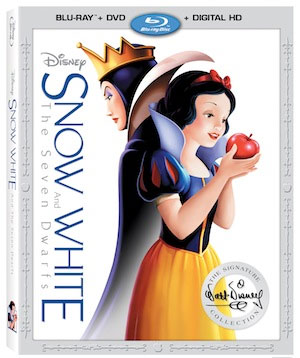 The Walt Disney Signature Collection is a new line of releases that will feature special edition versions of some of the most beloved classic movies from the Walt Disney vaults. To start off the line, Walt Disney Home Entertainment has just announced Snow White And The Seven Dwarfs for release in February.
Forever enchanting and inspiring, "Snow White And The Seven Dwarfs" embodies The Walt Disney Signature Collection's legacy of animation.  In this epic story of love and friendship, the kind and beautiful princess Snow White wins the hearts of the Seven Dwarfs and triumphs over the evil plans of a wicked Queen. 
The release will feature a 1080p high definition transfer o the movie in its original 1.33:1 fullframe aspect ratio and is supplemented by a new 7.1 DTS-HD Master Audio track.
Among the bonus features of the release you will find In Walt's Words: Snow White and the Seven Dwarfs, in which, for the first time ever, you will hear Walt himself talk about Snow White.
The release will also include a never–before-seen story board sequence titled Alternate Sequence: The Prince Meets Snow White.
Also included is Iconography, allowing you to explore how this film influences pop culture, art, and fashion. Next up is @DisneyAnimation: Designing Disney's First Princess in which modern day Disney artists discuss the design of Snow White and how it influenced the look of some of your favorite Disney characters.
For the kids, there is The Fairest Facts of Them All, a featurette hosted by Disney Channel star Sofia Carson in which she reveals seven intriguing facts about Snow White that you may not know. It is followed up by Snow White in Seventy Seconds, giving you the chance to rap along with this hip reimagining of the story.
The "Snow White And The Seven Dwarfs" Signature Collection will be in stores on February 2, containing the Blu-Ray version and a DVD version, along with a Digital HD version. No suggested retail price has been announced at this time.