"Saints & Strangers" sails to your home theater in February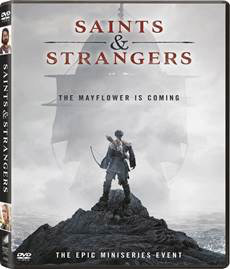 Sony Pictures Home Entertainment has just added the television mini-series Saints&Strangers to its line-up, scheduling a DVD version of the show for release in February.
Vincent Kartheiser, Anna Camp and Ron Livingston star in the acclaimed mini-series event "Saints&Strangers," which dramatizes the Pilgrims' harrowing voyage and arrival to America. Upon landing they encounter hunger, disease, and the proud but wary Native Americans. Loyalties are tested and hard-fought alliances between leaders become strained when the Pilgrims suspect a traitor in their midst.
The four-hour television movie event produced by Sony Pictures Television with Little Engine Productions for National Geographic Channel, fittingly premiered on the channel just prior to the Thanksgiving holiday. Exploring the trials and tribulations of our country's first settlers, this is the never-before-seen perspective about the 101 men, women and children who sailed 2,800 miles for 66 days on the Mayflower for a new land they had never seen. Of this group, half were those we know as Pilgrims, religious separatists ("Saints") seeking religious freedom. The "Strangers" were adventurers seeking better fortunes and opportunity in the new world.
As a bonus, the release will also contain a selection of Deleted Scenes.
"Saints&Strangers" comes to our shores on February 16 with a suggested retail price of $29.98 for the DVD version.