Samsung and Fox first to release Ultra HD Blu-Ray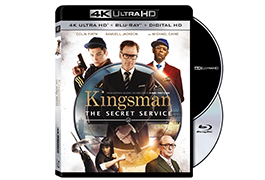 While it is not surprising that Samsung is among the first consumer electronic companies to throw their weight behind the new Ultra HD Blu-Ray format with hardware to support the medium, Twentieth Century Fox Home Entertainment's move is a bit more surprising. After all, this is the studios that traditionally held out on innovation until it became no longer possible to ignore its viability. They were among the last to support DVD and they haven't been overly enthusiastic about Blu-Ray either, and even to this date, their Blu-Ray support is lackluster to say the least.
Nonetheless, there they are, today, Samsung announcing their UBD-K8500 Ultra HD Blu-Ray player that will play Ultra HD discs at a full 60 frames per second, while also offering upscaling capabilities for legacy formats, such as Blu-Ray and DVD. No price point has been announced at his time, but the company says the player will be in stores in early 2016.
At the same time, Twentieth Century Fox Home Entertainment has announced its first line-up of titles for release at the same time, tentatively featuring movies, such as Kingsman: The Secret Service, X-Men: Days of Future Past, Exodus: Gods and Kings, Life of Pi and Fantastic Four. No price point has been announced for these titles either, but I'm sure they won't be cheap, especially given Fox's history of excessively high pricing on other formats.
If the early 2016 release date remains intact, this is a surprisingly fast development, allowing Ultra HD Blu-Ray to debut much faster than anticipated. We at DVD Review are certainly looking forward to this next generation of home entertainment, and more importantly, to see if it manages to reign the industry back in its tracks.
For more information on the subject, please also make sure to read Ed Peter's editorial Ultra HD Blu-ray: What if they threw a format and nobody came?. What are your thoughts?