Warner is celebrating Hammer Films with debuting Blu-Rays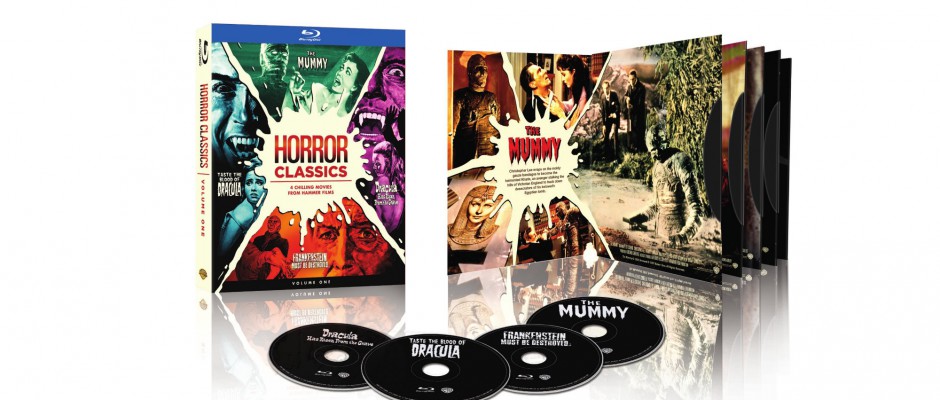 With the passing of the great Christopher Lee recently, Warner Brothers Home Entertainment seems to have remembered the Hammer films the studio has in its vaults. To make up for the oversight, the studios is now preparing the Horror Classics Collection, Volume 1, featuring four classic Hammer movies.
It starts with the 1959 version of The Mummy, the vivid Technicolor® reincarnation of "The Mummy," in which screen horror icon Christopher Lee wraps on the moldy gauze bandages and emerges as the tormented Kharis, an avenger stalking the hills and bogs of Victorian England to track down archaeologist John Banning (Peter Cushing) and other desecrators of his beloved Princess Ananka's Egyptian tomb.
Then there is the 1968 vampire film Dracula Has Risen From The Grave. In his third incarnation as Bram Stoker's infamous vampire, horror great and 55-year movie veteran Christopher Lee goes fang to cross with the forces of good in this atmospheric Hammer Studios film directed with stylish menace by two-time Academy Award®-winning cinematographer Freddie Francis.
It is followed up by Terence Fisher's 1969 Frankenstein Must be Destroyed, in which Baron Frankenstein's (Peter Cushing) experiment went wrong, dead wrong. Thus, another victim lies in a makeshift grave. Suddenly, a water main bursts, forcing the dead man's arm to the surface. Next, the torrent heaves the body upward. Frankenstein's panicked accomplice tries to conceal the body… but corpses can be so unwieldy.
This creepy scene is a highlight of "Frankenstein Must Be Destroyed," horror great Peter Cushing's fifth Hammer Studios Frankenstein saga. Other cast members of note include film-debuting Simon Ward (Young Winston) and Freddie Jones (The Elephant Man) as the scientist's pitiable new creation.
Taste the Blood of Dracula is the fourth film in the set, and also the fourth film in Hammer Studios' cycle of' hemogobbling' Victorian-era horror. It is a showcase of why Hammer became the name in Gothic terror. The solid cast and rich production design raise goosebumps of real-life fear and otherworld dread. And Christopher Lee dons his red-lined cape again to become Evil Incarnate. He's Count Dracula, a being neither dead nor alive… but his movies are livelier than ever.
Prepare for release as it hits streets with newly re-mastered transfers in 1080p HD and packaged in an elegant, rigid pocketbook style on October 6 for $54.96.