Tobe Hooper's "Eaten Alive" comes to Blu-Ray in July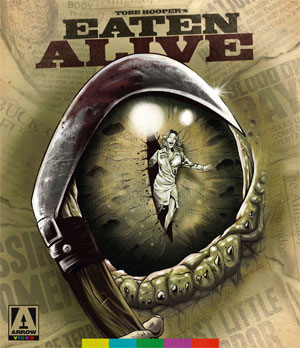 Arrow Video has added Tobe Hooper's 1977 horror shocker Eaten Alive to its release schedule, bringing the film that is probably best known in the US as "Horror Hotel," to Blu-Ray Disc and DVD in July.
Nearly a decade before he donned Freddy Kruger's famous red and green sweater, horror icon Robert Englund delivered a supremely sleazy performance in "Eaten Alive" – another essay in taut Southern terror from Tobe Hooper, director of "The Texas Chain Saw Massacre."
Deep in the Louisiana bayou sits the ramshackle Starlight Hotel, destination of choice for those who like to check in but not check out! Presided over by the bumbling, mumbling Judd (and his pet croc which he keeps in a large pond out front), the patron of this particular establishment may seem like a good-natured ol' Southern gent – but he has a mean temper on him, and a mighty large scythe to boot…
 
Oozing atmosphere from its every pore (the entire film was shot on a sound-stage at the famous Raleigh Studios, which lends it a queasy, claustrophobic feel) "Eaten Alive" matches "The Texas Chain Saw Massacre" for sheer insanity – and even draughts in Chain Saw star Marilyn Burns as the terrorized woman-in-peril, alongside William Finley and Mel Ferrer.
This Director-Approved Special Edition will offer up a brand new 2K transfer from the original camera negative, and feature a 1080p high definition Blu-Ray presentation, as well as a standard definition DVD version.
Among the extras on the release you will find a Commentary Track with co-writer and producer Mardi Rustam, make-up artist Craig Reardon and stars Roberta Collins, William Finley and Kyle Richard. The release also features a New Introduction to the film by director Tobe Hooper, as well as a Brand New Interview with Hooper.
In the Featurette "My Name is Buck", star Robert Englund discusses his acting career,and in "The Butcher of Elmendorf: The Legend of Joe Ball" you will learn about the story of the South Texas bar owner on whom "Eaten Alive" is loosely based.
There is also "5ive Minutes with Marilyn Burns", in which the star of "The Texas Chain Saw Massacre" talks about working on "Eaten Alive," along with an archival interview with Hooper called The Gator Creator.
The movie's Original Theatrical Trailers under its various titles "Eaten Alive," "Death Trap," "Starlight Slaughter" and "Horror Hotel" are also included, as well as US TV and Radio Spots.
To round out the release you will also find an Alternate Credits Sequence on the disc, and a Reversible Sleeve featuring original and newly commissioned artwork by Gary Pullin, along with a Collector's Booklet featuring new writing on the film, illustrated with original archive stills and posters
"Eaten Alive" will arrive in stores on July 28 for $39.95 as a Blu-Ray/DVD combo.