"Spring" turns into horror in June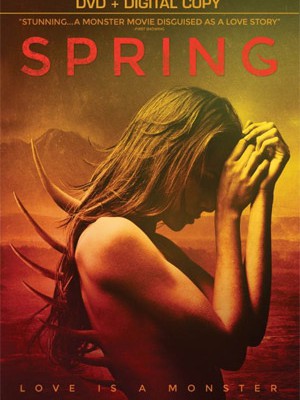 Anchor Bay Entertainment and Drafthouse Films have scheduled Spring for release in June, bringing the genre-bending horror romance to Blu-Ray Disc and DVD.
After the death of his mother and a bar fight that could lead to jail time, sous-chef Evan (Lou Taylor Pucci) flees California for Italy. While backpacking along the spectacular cliffs of the Adriatic coast, he stops in an idyllic village, where he meets and instantly connects with the enchanting and mysterious Louise (Nadia Hilker). A flirtatious romance begins to bloom between the two – however, Evan soon realizes that the voracious Louise harbors a monstrous, primordial secret that could put both their relationship and their lives in jeopardy.
As extras, the release will include an Audio Commentary with writer-producer-editor-director Justin Benson and producer-editor-cinematographer-director Aaron Moorhead.
In addition, you will find the Feature-length Documentary "The Making of Spring" on the release, along with the Featurettes "The Talented Mr. Evan," "Angelo: The Worst Farmer," "Wankster Girlfriend Monologue" and "Evan Ti Odio."
A number of Deleted Scenes and SFX Case Studies are also included, as well as a Proof of Concept Short and an Alternate Ending..
Promo Videos will round out the disc.
"Spring" will arrive exclusively in Best Buy stores on June 2, but the title will be available at other retails also, starting August 11. The release will carry a $22.98 price tag.