You can witness the "Manhattan" Project at home in April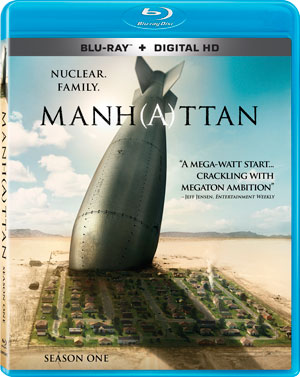 Lionsgate Home Entertainment has added the acclaimed WGN period drama Manhattan to its line-up, releasing the complete First Season on Blu-Ray Disc and DVD in April.
Set against the backdrop of the mission to build the world's first atomic bomb, "Manhattan" follows the brilliant but flawed scientists and their families as they attempt to coexist in a world where secrets and lies infiltrate every aspect of their lives.
The release will contain all 13 episodes from the television show's first season, presenting them in their original 1.78:1 widescreen format with Dolby Digital 5.1 and DTS 51. HD Master Audio, respectively.
In addition, the release will contain the Featurette "Ground Zero: Bringing the Bomb to Screen" as well as the Featurette "P.O. Box 1663: Creating a City that Didn't Exist".
The release will also offer up a Featurette on Robert J. Oppenheimer, called "Now I Am Become Death". "Recreating an Era" gives you a closer look at the costume design of the show.
To round out the release, you will find select Episode Audio Commentaries with Cast and Crew members as part o the disc set.
"Manhattan" has been scheduled for release on April 7 for $49.97 as a 3-disc Blu-Ray Disc set, and $49.98 as a 4-disc DVD set.