You can hear and see "The Voices" in April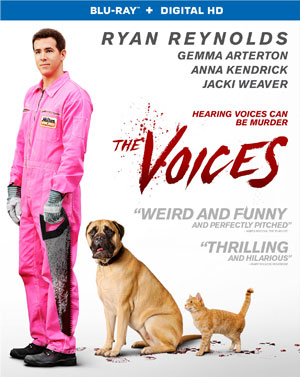 Lionsgate Home Entertainment revealed details about the upcoming release of the black comedy The Voices, scheduling a Blu-Ray Disc and DVD version for release in April.
"The Voices" was a favorite at the Sundance Film Festival and the Toronto International Film Festival in 2014 as it shows us Ryan Reynolds as a simple, likable guy trying to do the right thing with the help of his talking pets – but accidentally winds up as a serial killer.
Jerry (Ryan Reynolds) is that chipper guy clocking the nine-to-five at a bathtub factory, with the offbeat charm of anyone who could use a few friends. With the help of his court-appointed psychiatrist (Jacki Weaver), he pursues his office crush (Gemma Arterton). However, the relationship takes a sudden, murderous turn after she stands him up for a date. Guided by his evil talking cat and benevolent talking dog, Jerry must decide whether to keep striving for normalcy, or indulge in a much more sinister path.
The release will include the Featurettes "From Fridge to Frame," "The Voices of Ryan Reynolds" and the Visual FX Featurette "The Making of Bosco & Mr. Whiskers".
Also included is a VFX Comparison Showreel and a selection of Deleted & Extended Scenes, along with Animatics and a Cast & Costume Sketch Gallery.
"The Voices" will be heard on April 7 for $24.98 on Blu-Ray Disc and $19.98 on DVD.