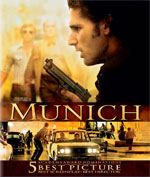 Munich (2005)
Universal Home Video
Cast: Eric Bana, Daniel Craig, Geoffrey Rush, Ciaran Hinds, Mathieu Kassovitz, Hanns Zischler
Extras: Introduction, Featurettes
Rating:
In 1972, eleven Israeli athletes competing in the Munich Olympics were taken hostage and murdered by Palestinian terrorists known as Black September. In retaliation, Israeli Prime Minister Golda Meir engaged five men to track down and assassinate eleven suspected terrorist leaders. Universal Studios Home Entertainment now presents director Steven Spielberg's powerful account of this infamous historical event.
Eric Bana stars as Avner, the appointed leader of the Mossad group, who must leave his pregnant wife at home to take on a mission he does not entirely understand. Daniel Craig, Ciaran Hinds, Mathieu Kassovitz and Hanns Zischler make up the rest of the diverse and inexperienced agents. With little confidence, vague instructions and shady sources, the group is left in constant doubt and uncertainty about their actions. This eventually leads Avner to question the validity of their mission and his loyalty to Israel.
Steven Spielberg wisely chose not to take sides here, presenting instead an objective view of the reasoning behind both the Israeli and Palestinian's actions. What he exposes in this film is not who was right or who was wrong but rather the destructive consequences that unquestioned vengeance can lead to for all sides.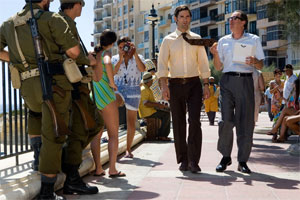 Some of the film's most effective moments occur when we see the Israeli agents faltering. During one of their assassination attempts, the young daughter of a suspected Palestinian leader walks right into the trap that has been set for her father. The scene hits us on a deeply emotional level because we recognize the humanity in these characters. This particular moment, with the child wearing a bright red sweater, is reminiscent of a famous scene in "Schindler's List," in which a small girl in red walks through a crowded street and into an apartment where an uncertain fate awaits her. The color red, in fact, shows up prominently in "Munich," a symbol of the bloodshed that characterizes the deadly mission.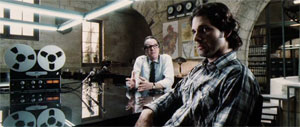 Long overdue, Universal Home Entertainment is presenting "Munich" on this Blu-Ray Disc with a pristine 1080p high definition transfer in its original 2.35:1 aspect ratio. The transfer reveals incredibly deep black levels, providing the image with plenty of visual depth, but also giving it a striking look that instantly reminds us of the 70s. Combined with the color palette, which has been carefully designed to conjure up the flair of the time period, the film does a magnificent job transporting you back in time. The level of detail in the transfer is high throughout, providing detail and texture that has not been seen on any previous home video versions of the film.
Accompanied by a DTS 5.1 HD Master Audio track, the soundtrack is surprisingly dynamic, offering a dramatic range of qualities, from the jarring explosions to John Williams' soft, understated score. Street sounds and ambience are utilized to good effect, creating an atmosphere of high tension without drowning the viewer in unrelenting noise that bombards the viewer from all directions. One of Spielberg's greatest virtues is his use of silence to build suspense, making the introduction of sound effects even more imperative, and the audio presentation does the film justice.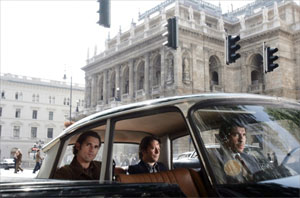 The release features an introduction by Steven Spielberg, as well as a number of additional bonus features that have been culled from the Collector's Edition DVD released in 2006.
First up is the featurette "The Mission, the Team," offering up a look at the five lead characters and the actors who play them. Steven Spielberg gives his take on the characters he wanted to portray and how important it was to cast actors of various backgrounds and styles. The actors themselves are interviewed as well.
"Memories of the Event" gives the filmmakers and actors an opportunity to reflect on that fateful day in 1972 and how it impacted their lives. They discuss where they were and how they felt upon hearing the tragic news. This is a moving and highly personal featurette that also includes some news footage from the real event.
One of the recurring qualities in all of Spielberg's historical films is his meticulous attention to period detail, and "Munich" is no exception. In "Portrait of an Era," we get an idea of how Spielberg successfully recreated the flavor of Europe in the early 1970s, particularly around Paris, London and Rome. This is a surprising feat considering that he filmed primarily in Malta and Budapest.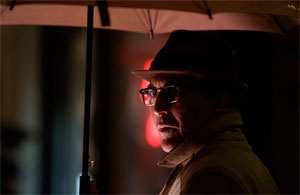 Next up, the cast and crew give us their views on "The On-Set Experience." This movie was approached from a very realistic point of view—not the glossy, Hollywood endeavor that bogs down so many historical films—and as such, it proved a constant challenge for the filmmakers. Recreating the violent events was a chilling experience for some, but ultimately worth it in order to tell this harrowing story.
One of the major reasons why "Munich" works so well is because of its cast of largely unfamiliar faces. "The International Cast" is a featurette that introduces us to the multi-national troupe of actors assembled for the film, including Israeli actress Ayelet Zurer, who portrays Eric Bana's wife. The combination of actual Israeli and Arab actors not only creates an authentic cinematic retelling of history but also serves to drive home the film's themes of universal identity and solidarity.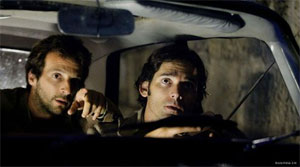 The last featurette, "Editing, Sound and Music," is a pretty self-explanatory supplement. It's a nice cap-off to a nicely produced DVD set for an extraordinary film.
Steven Spielberg's "Munich" is a moving account of one of the blackest moments of the twentieth century. It addresses the controversial subject matter with dignity and honesty, presenting some rather thought-provoking questions to the audience while offering a riveting story. With the conflict between Israeli and Arabs still raging on to this day, the film is still every bit as poignant and important as it was when it was first released. Unlike some of his other films, Spielberg does not get sentimental with this subject matter and leaves viewers without a sweeping wrap-up. Instead, it is a bleak meditation on violence that is in perfect synch with the state of the world right now.
Make sure to check it out, especially because "Munich" has become one of Steven Spielberg's most overlooked films.