Liam Neeson hunts again in "Taken 3" this April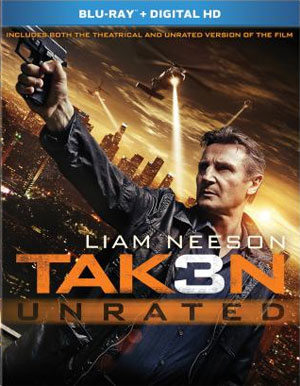 Twentieth Century Fox Home Entertainment is adding the next sequel in the franchise to its release line-up, scheduling Taken 3 for release on Blu-Ray Disc and DVD in late April.
The hunter becomes the hunted when Liam Neeson returns as former CIA operative Bryan Mills, who finds himself framed for the brutal murder of his ex-wife (Famke Janssen). Consumed with rage, and pursued by a savvy police inspector (Forest Whitaker), Mills must rely on his "particular set of skills" one last time to find the real killers, clear his name, and protect the only thing that matters to him now — his daughter (Maggie Grace).
The DVD version will also contain the Deleted Scene "Flashback Malankov", as well as the Featurettes "Sam's Bunker A.K.A. The Rabbit Hole," "Taken to L.A." and "A Taken Legacy". It will be rounded out by a Gallery.
The Blu-Ray version will dish out a 1080p high definition transfer with a full-bodied DTS 5.1 HD Master Audio track. As a special treat, this version will feature both the Theatrical and Unrated Cut of the film.
In terms of bonus materials, the Blu-Ray version will also contain all the bonus features found on the DVD release, naturally.
Get ready for some hard-hitting action when "Taken 3" lands on store shelves on April 21 for $39.99 on Blu-Ray Disc and $29.99 on DVD.