There will be "No Tears for the Dead" in February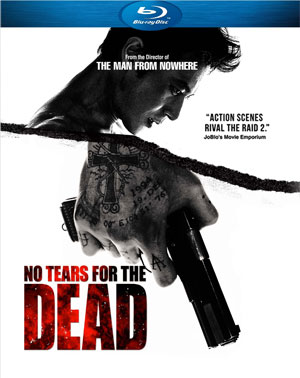 CJ Entertainment will release the Korean action thriller No Tears for the Dead in February, bringing the film to Blu-Ray Disc and DVD, complete with bonus features.
Abandoned by his mother shortly after immigrating to America, Gon (Jang Dong-gun) is raised by the mafia and grows up to become a cold-blooded hit man. Though usually flawless in taking out his targets, Gon makes a terrible mistake of killing an innocent young girl. A flood of guilt takes over his life and the situation becomes worse when his boss assigns him the job of killing the young girl's mother. Gon's new target, Mogyeong (Kim Min-hee), is a risk manager at an investment firm and has buried herself in work to bury her grief. She is completely unaware of her role at the heart of a dangerous conspiracy. Finally, she meets the man who wants to tell her the truth behind the death of her child.
The DVD version will include a Commentary Trackby director Lee Jeong-beom, as well as a Making-of Featurette.
The Blu-Ray version will contain the same bonus features, but will further supplement the bonus materials with Deleted Scenes, and an Interview with Brian Tee.
Further, look for Character Spot: Mogyeong and Character Spot: Gon profiles, along with more Behind the Scenes Footage and Action Highlights.
"No Tears for the Dead" will be available in stores on February 17 for $29.98 on Blu-Ray Disc and $26.98 on DVD.