"The Maze Runner" makes his way to Blu-Ray and DVD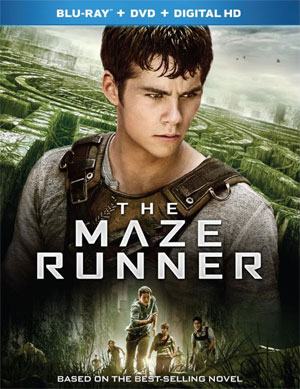 Twentieth Century Fox Home Entertainment just announced the upcoming release of The Maze Runner, inviting you to unlock the mysteries of the maze n December on Blu-Ray Disc and DVD.
In this heart-pounding survival thriller based on the best-selling novel, Thomas (Dylan O'Brien) wakes up trapped in a massive, ever-changing maze with a group of boys who have no memory of the outside world. Facing dangerous obstacles at every turn — especially the deadly Grievers that roam the concrete corridors at night — Thomas and the others must race to piece together clues in order to discover their true purpose… and find a way out before it's too late!
The DVD version of the movie will feature an anamorphic widescreen transfer with Dolby Digital 5.1 audio. From what we have been able to gather, this version will not contain any bonus materials.
However, the 2-disc Blu-Ray/DVD Combo Pack will offer up "The Maze Runner" in 1080p high definition with DTS 7.1 HD Master Audio with a number of supplements.
Foremost among them is a Commentary Track by Wes Ball and T.S. Nowlin, as well as Deleted Scenes with Commentary from Wes Ball, and a Gag Reel.
The release also includes the 5-part Making-of Documentary "Navigating The Maze" consisting of "The Maze is Born," "Creating the World," "Finding the Gang," "The Movie Inside the Maze," and "The Digital Details".
The "Chuck Diaries" are also part of the release, as well as Visual Effects Reels and the Ruin Wes Ball Short Film in 2D and 3D with commentary by Wes Ball.
Created especially for this release by BOOM! Comics, dive into the backstory world of the Gladers before Thomas' arrival, with the limited-edition, twenty-four page prequel Comic Book written by director Wes Ball and co-screenwriter T.S. Nowlin, that is also included in the release.
"The Maze Runner" arrives in stores on December 16 and can be yours for $39.99 as a Blu-Ray/DVD Combo and $29.98 on DVD.