"Going Under" is headed your way in January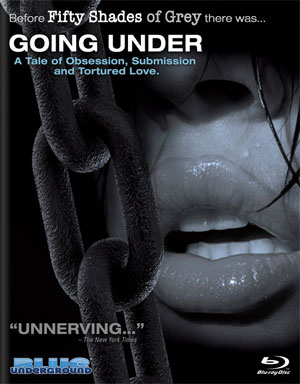 Blue Underground has added a new title to their ever-growing catalog of Blu-Ray titles, scheduling a high definition version of the 2004 thriller Going Under by Eric Werthman for release in January.
Peter (Roger Rees), a married psychotherapist, and Suzanne (Geno Lechner), a professional dominatrix, have been engaged in an affair of sensual dominance and submission in an S&M dungeon where they must abide by the rules. Now, those rules are about to be broken when they agree to see each other on the outside. As Peter becomes increasingly obsessed with the troubled Suzanne, they embark on a sordid psychosexual journey into their tortured pasts through their most carnal desires.
The award-winning film that brilliantly illuminates the dark world of S&M, fetishized eroticism, and the disturbing consequences of blurring the line between fantasy and reality will arrive in a 1080p high definition presentation with DTS 5.1 HD Master Audio track.
As extras the release will also feature an Audio Commentary with Co-Writer/Director Eric Werthman and Star Roger Rees, as well as the Featurette "Pushing the Boundaries", which features interviews with the movie's stars Roger Rees and Geno Lechner.
A look at the NYC Black & Blue Ball is also included, along with the movie's Theatrical & Teaser Trailers.
"Going Under" is scheduled for release on January 27 for $29.98.