Warner is celebrating Olivia De Havilland with three new releases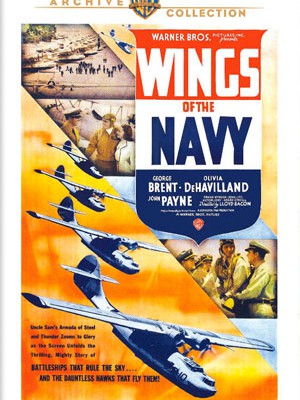 Warner Brothers Home Entertainment has just added three new movies its Warner Archives collection, making these films available on DVD for the first time.
In the 1938 Gold is Everwhere You Find it, directed by Michael Curtiz, Olivia de Havilland begins her run as the "Queen of Technicolor" in this sweeping Western epic depicting the other range war—the one fought between post-Gold Rush miners and the farmers in California's Sacramento Valley. With the easy seams all played out, the miners  deploy new technology to hydraulically clear entire mountainsides to get at the gold. The fate of the farmers downstream, subject to the mine's toxic effluvia and flooding matters not. That is until one miner (George Brent) falls for one farmer's daughter (Olivia de Havilland). The daughter's father's (Claude Rains) objections merely start with the mining process…
In Warner's patented 1939 flag-waver Wings of The Navy, the studio casts George Brent and John Payne in the roles originally defined by Pat O'Brien and James Cagney, with de Havilland as the good girl that drives both brothers to do bad things. Naval siblings Cass (Brent) and Jerry (Payne) are separated as far apart in their mutual service as can be – one high-flier in the Navy Air Corps, the other a deep-diver in the submarine service but their mutual love for the same lady puts the pair on a collision course in the air at a time when the nation's best and bravest were girding for war.
Olivia jumps ship for RKO in 1944's Government Girl and breaks class for some broad physical comedy in this "housing shortage" war-time comedy mixing romance, message movies, and pratfalls. Rugged industrialist Ed Browne is suborned from the dynamic factories of Detroit's auto industry to the red-tape  clogged halls of Washington DC to help give the military's aviation build-up a needed kick in the derriere. And Browne doesn't care who he offends, starting with stealing 'Smokey' Allard's (De Havilland) BFF's honeymoon suite. When Smokey discovers she's Ed's new secretary, courtship, chicanery and congressional hearing ensue. Director Dudley Nichols holds the reins loosely, letting De Havilland clearly have a blast leaving dignity behind, running riotously free.
All three titles are now available through the Warner Archives website. Check it out soon, because Warner currently offers a 22% discount on these titles!