"The Simpsons" go to Blu-Ray and DVD for Season 17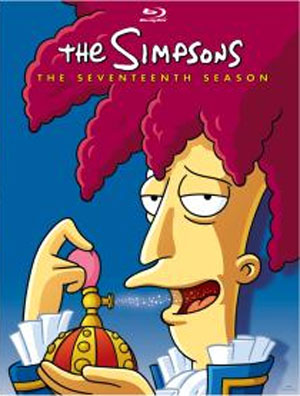 Twentieth Century Fox Home Entertainment has just announced the upcoming release of The Simpsons: The Seventeenth Season scheduled to make it to Blu-Ray and DVD in December.
When we were 17 it was a very good year—a year for Homer's new dad, MacGyver gets mad, Sideshow Bob's not so bad… Another comical compilation of "The Simpsons"—the longest-running scripted show in television history—has arrived. Season 17 contains all 22 outrageous episodes, a vast repertoire of Springfieldian special features, plus a mind-blowing list of celebrity guest voices, including Alec Baldwin, Larry Hagman, William H. Macy, Frances McDormand, Rob Reiner, Susan Sarandon and Lily Tomlin, just to name a few, with additional guest voices also providing commentary including Richard Dean Anderson, Ricky Gervais, Michael York and Kelsey Grammer. Phew!
Aside from all of the season's episodes, the set will once again come with a wealth of bonus features, including the Bonus Episodes "The Man Who Knew Too Much," "Cape Feare" and "Krusty Gets Busted".
A number of Deleted Scenes are also part of the release of course, as well as Audio Commentaries on selected episodes.
In terms of Featurettes, the release will dish out "The Great Ones," "Life! It's the Simpsons" and "Let There Be Music". An Animation Showcase, two Sketch Galleries and an Introduction will also be included.
"The Simpsons: The Seventeenth Season" will be in stores on December 2 for $39.99 on Blu-Ray Disc and $26.98 on DVD.