Shock Waves (1977)
Blue Underground
Cast: Peter Cushing, John Carradine, Luke Halpin, Brooke Adams
Extras: Commentary Track, Interviews, Trailers, TV Spots, Radio Spots, Image Gallery
Rating:
"Shock Waves" is still one of the most bizarre, yet imaginative, zombie movies ever made, as it conjures up blood-thirsty Nazi zombies that are seemingly unkillable.
Blue Underground is once again paying tribute to one of the most overlooked genre cult classics, by bringing director Ken Wiederhorn's 1977 flick "Shock Waves" to Blu-Ray disc for fans to enjoy.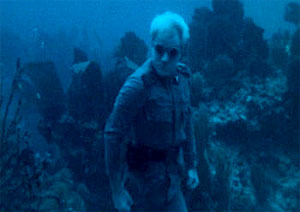 During World War II, with the help of scientists, the Germans created a corps of undead shock troopers and sent them out to kill the enemy—any way and anywhere they can find them. But the experiment did not go exactly as planned. While they fulfilled their mission, for some reason, the entire "Death Corps" disappeared. Not a single one of the undead troopers has ever been captured or killed. They simply vanished… until thirty years after the war they suddenly re-emerge from the waters of the Atlantic ocean, on the other side of the world—off the coast of Florida.
Waterlogged from the long journey, it soon becomes evident, however, that these super soldiers are still very much indestructible and that they are still following their original mission—to kill everyone on their path!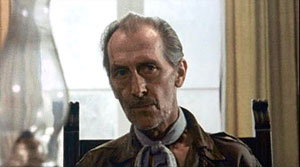 Far-fetched stuff, I know, but way cool, incredibly scary and very imaginative, the film is now presented with a brand new high definition transfer that has been taken from the only surviving elements. Shot on a minuscule budget on 16mm, the transfer does exhibit some grain, of course, as a result of the original source material. The amount of grain depends from shot to shot. While some are almost free of it, others are truly riddled with it, as difficult lighting conditions put their strain on the technically limiting 16mm film stock. I am very glad, however, that Blue Underground resisted the urge to digitally scrub the film and instead opted to present the movie exactly the way it was originally produced, grain and all. Not only does it keep the film's integrity intact, but it also plays on its artistic sensibilities because the grain gives "Shock Waves" a certain gritty look that perfectly fits the movie, adding to its qualities.
The color transfer is very balanced and renders an image that is rich in color, bringing out the best of the film. The solid contrast with deep blacks and good highlights further enhances the presentation, making "Shock Wave" look a lot better than you may expect. It definitely beats the DVD version from 12 years ago with ease. Look for the marvelous underwater shots with their subtle blue hues and you will very quickly realize how great this transfer is. But also image detail and edges are rendered perfectly clean and sharp.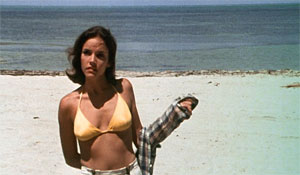 The release features the movie's original mono audio track, presented in a DTS HS Master Audio presentation. The track has been treated to balance out the frequency response of the track, making sure it does not sound too limited. While not staggeringly impressive, it services the film well with good bass response and clean high ends that are free of distortion.
Unlike the previously released DVD versions, this new high definition edition of the film also sports subtitles in English, French and Spanish.
Blue Underground has culled the commentary track from the DVD version and added it to this release, featuring writer/director Ken Wiederhorn, Make-up designer Alan Ormsby and cult filmmaker Fred Olen Ray. The commentary is entertaining and informative and offers good insight into the world of low budget filmmaking of the time.
But there's more, "From Slipper to Shock Waves" is an interview with the movie's star Luke Halpin, while "Nazi Zombies On A Budget" offers up an interview with Producer/Cinematographer Reuben Trane. "Notes For The Undead" is an interview with Composer Richard Einhorn and "Sole Survivor" is an interview with Star Brooke Adams, all of which are adding tremendously to the release as they shed light on the way the film was produced with its incredible financial restrictions in place.
The release also contains the movie's theatrical trailer as well as TV and Radio spots.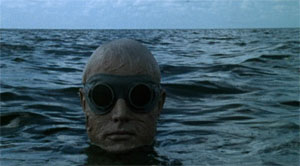 "Shock Waves" is as cultish as horror films get. It caters to a niche audience that does not care for glamorous over-produced horror fare, but instead appreciates the raw inspiration and translation of a vision. Typically, these kinds of films get the short-shrift by studios and never make their appearance on Blu-Ray or, if they do, their release, quality and features are very limited. Not here. Blue Underground once again sticks to its guns and impresses us with a top notch presentation for such a small and obscure film, and with extras that are nicely put together with a touch that shows love and appreciation for the movie. Nazi zombies aren't something you see every day, and with the veritable Peter Cushing in one of the leads, you know that you're getting some solid acting, so make sure you give this disc a try when you're in the mood.