"As the Light Goes Out" will shine brightly in November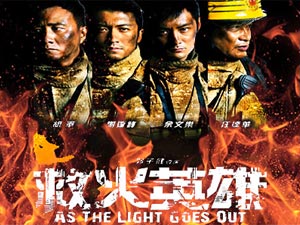 Well Go USA Entertainment has added the Hong Kong firefighting action drama As the Light Goes Out to its release-lineup, bringing the pyrotechnic spectacle to Blu-ray Disc and DVD in November.
It's Christmas Eve in Hong Kong, and while the residents prepare to celebrate, a dedicated band of brothers – the firefighters of Pillar Point Division (Nicholas Tse, Shawn Yue, Andy On) – are dispatched to a warehouse fire. What they find there first plunges the city into darkness, then threatens a far worse fate for them all. When every move could mean sudden death, the bonds between the men are tested, and dangerous truths uncovered. Will they be able to trust each other enough to make it through the night, saving themselves and the city they've sworn to protect?
No exact details, such as bonus materials, have been announced for the release yet, but we will keep you posted if more information comes in.
"As the Light Goes Out" will spring into action on November 18 for $29.98 on Blu-Ray Disc and $24.98 on DVD.