Once Upon A Time In America gets Extended Director's Cut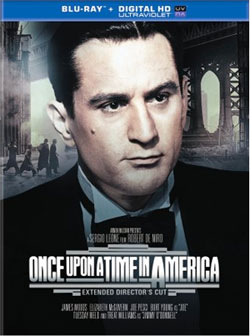 Warner Home Entertainment has just announced an Extended Director's Cut of Sergio Leone's landmark crime drama, Once Upon A Time In America. The film is scheduled for release on Blu-Ray Disc and DVD in September.
Robert De Niro plays David "Noodles" Aaronson and James Woods is Max, a boyhood cohort with whom Max's life becomes inextricably meshed. Once Upon A Time In America follows Noodles and Max and their cadre of Jewish gangsters in New York from their childhood in the early 1900's, through the glory years of prohibition and the gang's subsequent reunion 35 years later. The film, chronicling the ruthless ambitions that drive the two friends, is a compelling story that embraces a world of gritty realities, raw emotions, secret longings, explosive conflicts, and the volatile passions that destroy them and those who love them.
The Extended Director's Cut Collector's Edition contains a new 32-page Book with rare photos and insightful notes that chronicle the movie's production history. The book also includes a letter written by Martin Scorsese. He noted, "At long last, materials for some of these missing sections have been found and re-inserted into the picture under the supervision of Leone's family and surviving collaborators. The work has been completed by the magnificent team at Cineteca di Bologna and L'Immagine Ritrovata, with generous funding from Gucci, and it has been wonderful to witness this enlargement of Leone's vision, step by precious step."
Other special features included on all the editions include a Commentary Track by film historian and critic Richard Schickel, and the Making-of Documentary "Once Upon a Time: Sergio Leone.".
"Once Upon A Time In America" will be available on September 30 as a 2-disc Blu-Ray Edition with Ultraviolet DigitalHD for $34.99, a single-disc Blu-Ray version for $19.98 and a 2-disc DVD release for $14.98.