Join the Ghostbusters celebration in August and September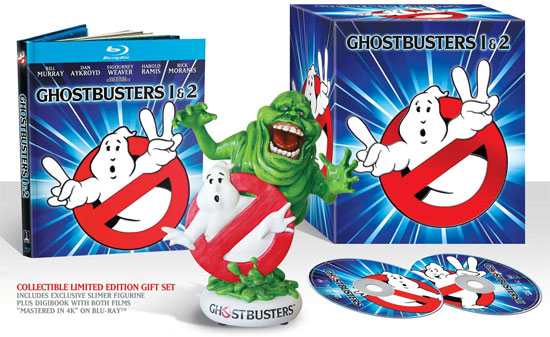 Sony Picture Home Entertainment is celebrating the 30th Anniversary of Ghostbusters! On August 29, the film will return to movie theaters for encore presentations around the US and Canada. Following the two-week theatrical engagement, Sony has also announced the upcoming release of Ghostbusters and Ghostbusters II as a 30th Anniversary Edition in September.
In "Ghostbusters", University parapsychologists Dr. Peter Venkman (Dave Murray), Dr. Raymond Stanz (Dan Aykroyd) and Dr. Egon Spengler (Harold Ramis) lose a research grant when their experiment methodology is proven to be bogus. The team decides to go into business for themselves and open "Ghostbusters," a ghost removal service. After struggling to get on their feet, they are summoned to investigate the strange happenings in Dana Barrett's (Sigourney Weaver) Central Park West apartment. What they discover is that all Manhattan is being besieged by ghosts and other worldly demons through a portal in her building.
In "Ghostbusters II", supernatural superstars Peter Venkman (Dave Murray), Dr. Raymond Stanz (Dan Aykroyd) and Dr. Egon Spengler (Harold Ramis) spring back into action when the infant son of Dana Barrett (Sigourney Weaver) becomes the target of a powerful demonic force. Reunited with their industrious secretary Janine (Annie Potts) and the nerdy, near-sighted Louis (Rick Moranis), the 'heroes of the hereafter' must put a stop to an enormous underground river ready to rot the roots of the entire Big Apple.
Restored and remastered in 4K ultra high definition, both the "Ghostbusters" and "Ghostbusters II" Blu-Rays come loaded with exclusive bonus materials, including revealing Conversations with director Ivan Reitman and Dan Aykroyd, as well as Never-before-seen Deleted Scenes from "Ghostbusters II" and more. The "Ghostbusters" anniversary edition features the Original Music Video of the Oscar-nominated song "Ghostbusters" by Ray Parker Jr., while "Ghostbusters II" includes the original music video for "On Our Own" by Bobby Brown. In addition, "Ghostbusters" will contain all previously released legacy content, Commentary and an Interactive Slimer Mode, offering fans a picture-in-picture graphical viewing experience.
The studios has also just launched the new website, www.ghostbusters.com with new material, info, updates and unique video content, as well as Ghostbusters news. 
Keep your eyes open for these films on Blu-Ray Disc on September 16.