Disney readies Sleeping Beauty for high definition release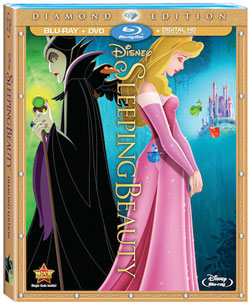 Walt Disney Home Entertainment has just unveiled details about an upcoming Diamond Edition Blu-Ray of Sleeping Beauty, scheduling the release for October.
"Sleeping Beauty" tells the wondrous tale of a princess cursed by an evil fairy, protected by three loving fairies and, ultimately, saved by "true love's kiss." Featuring the voice talents of renowned opera singer Mary Costa as Sleeping Beauty and Disney stalwart Eleanor Audley as the evil fairy, Maleficent, the film's vibrant visuals were created by a team that included Milt Kahl and Ollie Johnston, two of Disney's legendary Nine Old Men and an Academy Award®-nominated score, 1959, adapted from the incandescent music of Peter Tchaikovsky. "Sleeping Beauty" is the sixteenth animated feature in the Disney animated features canon and was the last animated feature produced by Walt Disney to be based upon a fairy tale. It is the tenth film released as part of Disney's prestigious Blu-ray Diamond Collection.
Arriving as a 2-Disc Blu-ray Set that contains the Blu-Ray disc, DVD and a Digital Copy, the release will bundle up a ton of bonus materials with the film. It includes 'Once Upon A Parade' a featurette on how behind every attraction, event and parade at the Magic Kingdom is a unique story.  Join Sarah Hyland from ABC's "Modern Family" as she tells us the tale of Walt Disney World's new Festival Of Fantasy Parade.  This magical "in world" short film goes behind the scenes of the new parade and shows how the residents and characters of Fantasyland created this parade to tell their stories.
Also included is Art of Evil: Generations Of Disney Villains, a legacy piece that spotlights Disney's favorite villain animator, Marc Davis and his infamous creations of characters such as Maleficent and Cruella.  Throughout the piece, we will talk to modern day animators like Andreas Deja and also the new generation of Animators (Lino DiSalvo Animation Director of FROZEN) on how Marc's designs and characters influenced what they do today.
In @DisneyAnimation: ARTISTS IN MOTION (Extended Edition) you will join Walt Disney Animation Visual Development artist Brittney Lee as she goes through the process of creating a three dimensional sculpture of Maleficent, completely out of paper. In this extended edition, go deeper into Britney's process.
The release also contains a number of Never Before Seen Deleted Scenes, such as The Fair (With Deleted Character – The Vulture), The Curse is Fulfilled and Arrival Of Maleficent (Alternate Scene).
BEAUTY-OKE "Once Upon A Dream" is also included, a Sing-Along to this kinetic text video of Aurora's signature song.
The release will also include a series of bonus features previously found on the DVD release of the film, including The Sound Of Beauty: Restoring A Classic, Picture Perfect: The Making Of Sleeping Beauty, Eyvind Earle: A Man And His Art and an Audio Commentary by John Lasseter, Andreas Deja and Leonard Maltin.
"Sleeping Beauty" arrive on October 7 for $36.99 on Blu-Ray Disc and $29.99 on DVD.