Arnold smacks down bad guys in Sabotage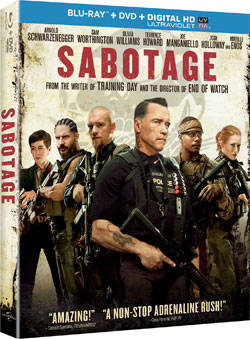 Universal Home Entertainment announced details about the upcoming release of Sabotage, the latest action movie starring Arnold Schwarzenegger, scheduling the release for July.
Arnold Schwarzenegger stars in the pulse-pounding action film Sabotage, from the director of End of Watch and the writer of Training Day. When DEA task force leader Breacher Wharton (Arnold Schwarzenegger) storms a heavily armed cartel safe house, rogue members of his team use it as a cover to steal $10 million in cash. But just when they think their secret is safe, agents are killed off one-by-one, and everyone is a suspect, including the squad itself. Co-starring Sam Worthington, Olivia Williams, Terrence Howard, Joe Manganiello, Josh Holloway and Mireille Enos, Sabotage is an explosive tale of betrayal and trust.
"Sabotage" arrives as a DVD version as well as a Blu-Ray/DVD combo with Ultraviolet HD. Both releases will also contain a selection of Deleted Scenes and Alternate Endings, along with the Featurette Making Sabotage, giving you a behind-the-scenes look at the production.
"Sabotage" will be in stores on July 22.