Sony brings all of the The Boondocks to DVD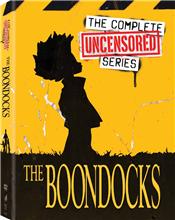 Sony Pictures Home Entertainment has just announced the upcoming release of The Boondocks: The Complete Series on DVD in June.
Uncut, uncensored and unstoppable, all four seasons of "The Boondocks" arrive on DVD in this complete series set. Based on Aaron McGruder's classic, controversial comic strip, the series follows 10-year-old urban revolutionary Huey and his hip-hop obsessed little brother Riley as they move to the suburbs with their unwise old granddad, Robert Freeman. In this quiet neighborhood, the laughs get loud with scathing, satirical assaults on politics, pop culture and pretension, with no taboo left untouched.
The release will arrive as an 11-disc DVD set featuring all 55 episodes of the Adult Swim show. Based on Aaron McGruder's politically-charged comic strip and named by Time magazine as one of the Top 10  most controversial cartoons of all time, the adult animated series continues to shock and awe with its satirical humor and unapologetic storylines.
The release will also include a number of bonus materials, such as Commentary Tracks, and a variety of Featurettes. Video Introductions are also included, along with Animatics and a Photo Gallery.
"The Boondocks: The Complete Series" will be in stores on June 24.