Breaking Bad: The complete Series arrives in November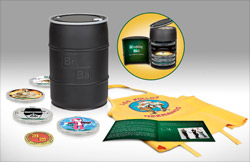 Sony Pictures Home Entertainment has just announced the Breaking Bad: Collector's Edition Full Series Setin a Collectible Replica Barrel with Commemorative Memorabilia from Creator Vince Gilligan.
"Breaking Bad" follows protagonist Walter White (Bryan Cranston), a chemistry teacher who lives in New Mexico with his wife (Anna Gunn) and teenage son (RJ Mitte) who has cerebral palsy. White is diagnosed with Stage III cancer and given a slim chance to survive. With a new sense of fearlessness based on his medical prognosis, and a desire to secure his family's financial security, White chooses to enter a dangerous world of drugs and crime and ascends to power in this world. The series explores how this fatal diagnosis transforms Walt from mild family man to a kingpin of the drug trade.
Fans who are addicted to the series and itching for another hit can now indulge in more than two-hours of never-before-seen footage in the all-new, two-hour documentary No Half Measures: Creating the Final Season of Breaking Bad, exclusively in the box set, which comes packaged in a collectible replica barrel representing part of Walter White's dark legacy.  The all-new documentary chronicles the making of the final season, from filming the first table read to the very last day on set and everything in between, including Bryan Cranston inviting the camera in to his Albuquerque living room for the first reading of the final script with Aaron Paul.
The box set also contains all bonus features from previously released seasons (including retail exclusives formerly only available in select stores), a Los Pollos Hermanos apron and a collectible booklet with a letter from Gilligan, as well as a commemorative Breaking Bad challenge coin designed and created by Gilligan exclusively for this set as a token of appreciation to fans for making the "Breaking Bad" journey.
Look for the set to arrive in stores on November 26.