Red Dawn arrives in March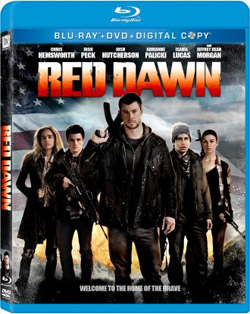 20th Century Fox Home Entertainment has added Red Dawn to their release line-up, bringing the film to DVD and Blu-Ray Disc in March.
Chris Hemsworth (Thor), Josh Hutcherson (The Hunger Games), and Adrienne Palicki (G.I. Joe: Retaliation) deliver a full arsenal of pulse-pounding excitement in this explosive action-adventure! The unsuspecting citizens of Spokane, Washington, wake up one morning to the shocking sight of foreign paratroopers dropping from the sky in a surprise attack on the United States. Soon the entire region is under enemy control, but a group of courageous teenagers has decided to fight back, waging an all-out war against the invaders, to take back their town "" and their freedom!
The release will arrive as a Blu-Ray/DVD combo that also offers a Digital Copy. The movie will features a DTS 5.1 HD Master Audio track along with other language tracks.
Among the extras you will find the Featurettes "Red Dawn Rising," "Building The Red Menace," "Training For WWIII," "WWIII Comes To Town" and the movie's Theatrical Trailer.
"Red Dawn" will be in stores on March 5 for $19.99.