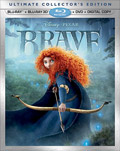 Brave (2012)
Buena Vista Home Entertainment
Cast: Kelly Macdonald, Billy Connolly, Emma Thompson, Julie Walters, Robbie Coltrane
Extras: Commentary Tracks, Deleted Scenes, Alternate Opening, Extended Scenes, Featurettes and much more
Rating:
When "Brave" first came into movie theaters, I found the trailers not all that exciting. I went to see it more based on the merits of Pixar's history than an actual interest in the movie per se. And yet again, Pixar proved to me that they are one of the best studios around when it comes to story-telling because before I knew it I was completely wrapped up in the story and enjoyed the movie tremendously.
"Brave" tells the story of the young Scottish princess Merida (Kelly Macdonald) who refuses to accept her fate as being the demure little daughter who does what she's being told. Instead, Merida is steadfast and headstrong and wants nothing more than to make her own decisions, especially when it comes to marriage.
One day while she was deep in the forests, Merida encounters a will-o-wisp, which leads her to a strange little hut, deep in the woods. Inside, a strange woman reveals herself as a witch and offers to grant the young girl one wish. When Merida wishes for her nagging mother to change, like a genie, the witch twists the wish and throws the kingdom into chaos. It is now up to Merida to set things right again.
"Brave" is a wonderful coming of age story that is enchanting and magical. However, despite being a Disney movie, it doesn't feel like your typical whimsical Disney-princess movie. Pixar managed to infuse "Brave" with characters that are dimensional and a world that is rather dark and edgy at times. This is not to say that the film is dark, quite the opposite, but the way that the story is told has more depth and is therefore more relatable than the standard Disney fare. I think it is that what captivated me the most while watching the film. I wasn't expecting this level of depth and emotional impact in the film and was wholesomely entertained and surprised to find that "Brave" is truly another magnificent entry in Pixar's long line of successes.
One of the major appeals of the film is the backdrop of the Scottish lowlands, filled with dark forests. Steeped in Scottish accents, the film also manages to create characters that are interesting to watch and listen to. Wonderfully cast and voice-acted, the film offers something for everyone and the humor that is sprinkled throughout the movie helps keep things light and entertaining throughout.
Walt Disney Home Entertainment and Pixar are dishing out a spectacular release here, featuring the 3D version of the movie on one Blu-Ray disc, a standard Blu-Ray version in 1080p high definition format, a DVD and a Digital Copy, as well as an extra disc with bonus materials. The transfer is marvelous and absolutely pristine. Coming straight off the digital masters, there is not a single defect to be found in any of the transfers and the level of detail is remarkable. In the end, however, it is the color reproduction and the solid black levels that impress, as they help render an image that is incredibly rich and offers stunning visual depth. Clearly, "Brave" ranks among the best transfers currently in the market, no matter which of the provided formats you chose to view the movie in.
Over the years we have come to expect only the best from Pixar, not only in regards to their movies, but also in regards to the bonus materials found on their releases. "Brave" certainly does not disappoint either. While the Blu-Ray disc of the movie contains a wealth of additional features, there is an entire additional Blu-Ray disc included with even more things to check out. Filled to the brim with behind-the-scenes featurettes and info, character information, an alternate opening, a look at the language, and an art gallery, this release offers information for even the most trivia-minded viewers. There is virtually nothing that has no been covered in this release and to top it all off, this set also contains a selection of deleted scenes and commentary tracks. Enough information to explore and re-experience the movie many times over.
Another Pixar staple are the short films that open their films in theaters and I am glad to report that "Brave" also includes "The Legend of Mordu," the Pixar short that opened the film in theaters can be found on the release as well.
"Brave" is a magnificent achievement, both from a technical and a story-telling standpoint. It hits all the right notes all the time and creates a memorable and tremendously engaging experience. The Blu-Ray release only adds to that impression by loading it up with brutally stellar feature film presentations, accompanying them with a tremendous set of extras. You simply have to own this release!