My Big Fat Greek Wedding celebrates its 10th anniversary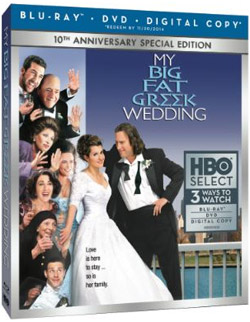 HBO Home Entertainment just announced the upcoming release of My Big Fat Greek Wedding: 10th Anniversary Special Edition, coming to Blu-Ray in November.
Toula Portokalos (Nia Vardalos) is the plain, 30-year-old single daughter of Greek immigrants who expect her to "marry a Greek boy, make Greek babies and feed everyone until the day we die," to make the family proud. Toula wants more for herself and just when she's wishing she were braver, or prettier, she locks eyes on a tall handsome stranger in the family restaurant and freezes.
Ready for a change and against the wishes of her traditionalist father, she enrolls in a computer course at college and gains the self-confidence to change not only her appearance but her whole attitude. Her change attracts the attention of her crush, Ian Miller (John Corbett), who woos Toula despite her anxieties and her family's shocked opposition – after all, he's not Greek! Ian's marriage proposal throws the family into chaos and Toula wonders if she will ever survive the planning of her big, fat Greek wedding.
The release will feature a 1080p high definition transfer with high def audio, and will also contain the Commentary Track with Vardalos, Corbett and director Joel Zwick that was part of the original DVD release.
In addition, the Blu-Ray version will also contain A Look Back at My Big Fat Greek Wedding, a new 30-minute retrospective featurette, re-uniting Vardalos and Corbett to reminisce about the making of the film, along with Deleted Scenes.
"My Big Fat Greek Wedding" arrives as a Blu-Ray/DVD and Digital Copy combo on November 13 for $19.95.