MGM brings the Death Wish movies to Blu-Ray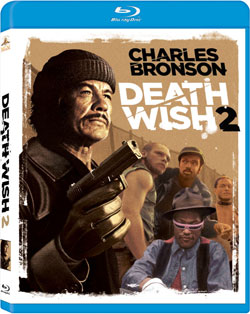 Charles Bronson says "no dice" to punks, bringing his own kind of vigilante justice to the streets as the heroic Paul Kersey in Death Wish II, Death Wish III, and Death Wish IV, which will come to Blu-Ray Disc for the first time this fall, courtesy of MGM Home Entertainment and 20th Century Fox Home Entertainment .
Although not making any official announcements, the studio has hinted at bonus features that will also be included on the releases, but don't expect new features, as they will most likely be culled from existing DVD versions.
Charles Bronson will spread some lead around in these movies when they arrive in stores on August 14 for $19.99, each.