Universal celebrates Erin Brockovich on Blu-Ray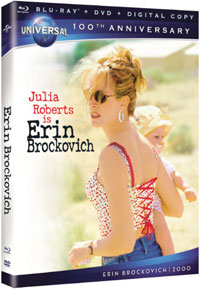 As part of the studio's 100th Anniversary Celebration, Universal Home Entertainment has added Erin Brockovich to their release line-up, bringing Stephen Soderbergh's remarkable movie to Blu-Ray in June.
A real woman. A real story. A real triumph. Julia Roberts won an Academy Award® for Best Actress in her role as Erin Brockovich, a feisty young mother who fought for justice any way she knew how. Desperate for a job to support herself and her three children, she convinces attorney Ed Masry (Albert Finney) to hire her, and promptly stumbles upon a monumental law case against a giant corporation. Now, Erin's determined to take on this powerful adversary even though no law firm has dared to do it before. And while Ed doesn't want anything to do with the case, Erin won't take "no" for an answer. So the two begin an incredible and sometimes hilarious fight that will bring a small town to its feet and a huge company to its knees.
Featuring a 1080p high definition transfer of the movie with DTS 5.1 HD Master Audio, the release will also contain the Featurettes "Erin Brockovich: A Look at a Real Life Experience" and "Spotlight on Location: The Making of Erin Brockovich."
In addition, the release will contain the celebratory featurettes 100 Years of Universal: Academy Award® Winners and 100 Years of Universal: The Lot.
The release will be rounded out by the DVD version and a Digital Copy of the movie.
"Erin Brockovich" will arrive in stores on June for $19.98.