J. Edgar hits your home in February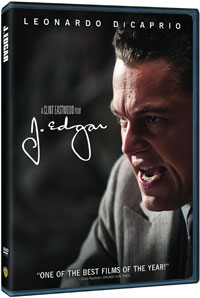 Warner Home Video has just revealed plans to release the Clint Eastwood-directed J. Edgar on DVD and Blu-Ray Disc in February.
Leonardo DiCaprio stars as J. Edgar Hoover, head of the Federal Bureau of Investigation for nearly 50 years. Hoover was feared, admired, reviled and revered, a man who could distort the truth as easily as he upheld it. His methods were at once ruthless and heroic, with the admiration of the world his most coveted prize. But behind closed doors, he held secrets that would have destroyed his image, his career and his life. Oscar Winner Clint Eastwood (Gran Torino, Million Dollar Baby, Unforgiven) directs an all-star cast including Naomi Watts (21 Grams), Armie Hammer (The Social Network) and Oscar Winner Judi Dench (Shakespeare in Love) as Hoover's overprotective mother.
No details or bonus materials have been announced at this time, but look for the gripping "J. Edgar" on store shelves on February 21 for $28.98 on DVD and $39.99 on Blu-Ray Disc.