Blue Underground unleashes the Killer Nun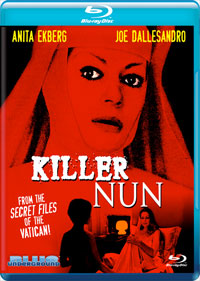 Blue Underground has added the 1979 thriller Killer Nun to their line-up, bringing the film to Blu-Ray Disc in April
Legendary Swedish sex bomb Anita Ekberg (La Dolce Vita) stars as Sister Gertrude, a cruel nun who discovers depraved pleasure in a frenzy of drug addiction, sexual degradation and sadistic murder. Joe Dallesandro (Flesh For Frankenstein), Lou Castel (A Bullet for the General), Alida Valli (Suspiria) and the luscious Paola Morra (Behind Convent Walls) co-star in this notorious "Nunsploitation" based on actual events that took place in a Central European country not many years ago!
Branded as obscene around the world and banned outright in Britain, "Killer Nun" has been newly remastered from the original negative and is now presented with all its blasphemous sex and violence fully restored in sleazy High Definition!
The Blu-Ray version will feature a 1080p high definition transfer, accompanied by a DTS HD Mono track.
As extras, you will find From the Secret Files of the Vatican on the disc, an interview featurette with Co-Writer/Director Giulio Berruti. Also included is the movie's Theatrical Trailer.
"Killer Nun" will comes to a store near you on April 24 for $29.98.