Straw Dogs spirals out of control in December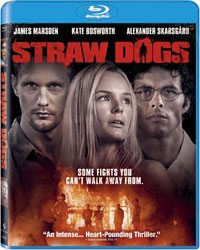 Sony Pictures Home Entertainment has just added the remake of Straw Dogs to their roster, bringing the intense film to DVD and Blu-Ray Disc in December.
A young couple (James Marsden and Kate Bosworth) moves to a quaint southern town. Soon their perfect getaway turns out to become a living hell when dark secrets and lethal passions spiral out of control. Trapped by a pack of depraved locals led by a ruthless predator (Alexander Skarsgard, TV's "True Blood"), they face a night of agonizing suffering and endless bloodshed. Now their only hope for survival is to become more savage than their merciless torturers. Also starring two-time Academy Award® Nominee James Woods (Best Actor, Salvador, 1986 and Best Supporting Actor, Ghosts of Mississippi, 1996).
OnDVD you will find a widescreen presentation of the movie with Dolby Digital 5.1 audio, along with a Commentary Track by Writer/Director Rod Lurie. Also included on the disc are the featurettes Courting Controversy: Remaking a Classic, The Dynamics of Power: The Ensemble, Inside the Siege: The Ultimate Showdown and Creating the Sumner House: The Production Design.
The Blu-Ray version features a 1080p high definition transfer with a DTS 5.1 HD Master Audio track. It will include the same bonus materials as the DVD version.
"Straw Dogs" arrives in stores on December 20 for $30.99 on DVD and $35.99 on Blu-Ray Disc.