How To Train Your Dragon fans get more content this fall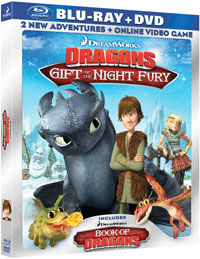 Paramount Home Entertainment has just added a new release to their line-up, which adds to the How To Train Your Dragon franchise. Called Dragons: Gift of the Night Fury, the release arrives in November.
Arriving as a Blu-Ray Disc/DVD combo, the release contains two new short films from the "Dragons" universe, titles "Gift of the Night Fury" and "Book of DRagons." They will be presented in 1080p high definition and come with DTS 7.1 HD Master Audio tracks.
To make the release even more tasty, the disc will also contain the Dragons Online Video Game. Further you will find Deleted Scenes on the disc, along with Gobber's Training Secrets and the Games "Spot The Difference," "Learn to Draw a Baby Gronkle," and "Hatch a Dragon". The featurette World of DreamWorks Animation is also included, along with a number of Trailers.
"Dragons: Gift of the Night Fury" will arrive at a store near you on November 15.