Steven Spielberg's Hook comes to Blu-Ray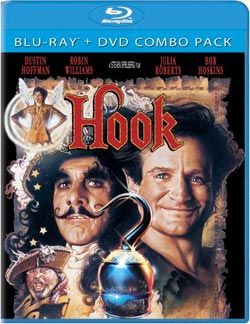 Sony Pictures Home Entertainment has just added Hook to their release line-up, scheduling Steven Spielberg's retelling of the Peter Pan story for November.
A high-flying adventure from the magic of Steven Spielberg, "Hook" stars Robin Williams as a grown-up Peter Pan and Dustin Hoffman as the infamous Captain Hook. Joining the fun is Julia Roberts as Tinkerbell, Bob Hoskins as the pirate Smee, and Maggie Smith as Granny Wendy Darling, who must convince the middle-aged lawyer, Peter Banning, that he was once the legendary Peter Pan. And so the adventure begins anew, with Peter off to Neverland to save his two children from Captain Hook. Along the way, he rediscovers the power of imagination, of friendship, and of magic.
The release will feature a 1080p high definition transfer with DTS 5.1 HD Master Audio but will sadly be devoid of any bonus materials, but will contain a Digital Copy.
"Hook" will arrive on Blu-Ray Disc on November 1 for $19.99.