Paramount brings hilarious comedies to Blu-Ray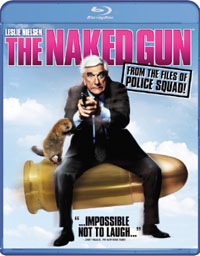 Paramount Home Entertainment has just announced that they will release the John Hughes comedy Planes, Trains and Automobiles along with Airplane! and The Naked Gun to Blu-Ray Disc for the first time in September.
A masterpiece of off-the-wall comedy, Airplane! tells the story of an ex-fighter pilot who takes control of an airliner when the crew is incapacitated—and skewers airplane disaster flicks, religious zealots, television commercials and everything else in its path along the way.  The wildly quotable comedy features an all-star cast including Leslie Nielsen, Robert Hays, Julie Hagerty, Robert Stack, Lloyd Bridges, Peter Graves, Kareem Abdul-Jabbar and more.  The Blu-ray includes a Trivia Track, an Enhanced Version of the film with Deleted Scenes, Interviews and more, Commentary Track by producer Jon Davison and writers/directors Jim Abrahams, Jerry Zucker and David Zucker and the Theatrical Trailer.
Written and directed by John Hughes, the hilarious classic Planes, Trains and Automobiles stars Steve Martin and John Candy as a businessman and traveling salesman forced together by circumstance as they try to get home in time for Thanksgiving.  The Blu-ray features a brand new, in-depth Retrospective on John Hughes' career that includes new Interviews and explores his indelible impact as a writer and filmmaker.  Additional features include the Featurettes "Getting There is Half the Fun: The Story of Planes, Trains And Automobiles", "John Hughes For Adults", a Tribute to John Candy and a Deleted Scene.
Leslie Nielsen stars as Police Squad's own granite-jawed, rock-brained cop Frank Drebin, who bumbles across a mind-control scheme to assassinate Queen Elizabeth in The Naked Gun: From the Files of Police Squad. Priscilla Presley, Ricardo Montalban, a stuffed beaver, two baseball teams and an odd assortment of others join the wacko goings-on.  The Blu-ray includes a Commentary Track by director David Zucker, producer Robert Weiss and Peter Tilden and the Theatrical Trailer.
All three titles will arrive exclusively in Best Buy stores on September 25 for $19.99, each.