Thor bursts onto Blu-ray and DVD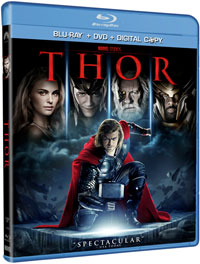 Barely out of movie theaters, Thor has already been announced for release on DVD and Blu-Ray Disc this fall by Paramount Home Entertainment.
This epic adventure spans the Marvel Universe; from present day Earth to the realm of Asgard. At the center of the story is The Mighty Thor, a powerful but arrogant warrior whose reckless actions reignite an ancient war. Thor is cast down to Earth and forced to live among humans as punishment. Once here, Thor learns what it takes to be a true hero when the most dangerous villain of his world sends the darkest forces of Asgard to invade Earth.
On DVD you will be treated to an anamorphic widescreen version of the film with Dolby Digital 5.1 audio. The release will feature a Commentary Track by director Kenneth Branagh, Four Deleted Scenes with optional commentary and the Featurette "Road to the Avengers".
On Blu-Ray Disc, the release will offer a 1080p high definition transfer with DTS 7.1 HD Master Audio sound. It will feature a Commentary Track by director Kenneth Branagh, along with Marvel One-Shot: The Consultant and a selection of Featurettes. Also included is Road to the Avengers and Eleven Deleted Scenes with optional commentary. The disc is rounded out by the movie's Trailers. All bonus materials will be in high definition. In addition, the Blu-Ray version contains the DVD version and a Digital Copy.
A Blu-Ray 3D version will also be released, featuring a 3D version of the film, along with the Blu-Ray Disc, DVD and Digital Copy in the same package, though it will not include any more bonus materials than those versions.
"Thor" arrives on September 13.