Pulp Fiction arrives on Blu-Ray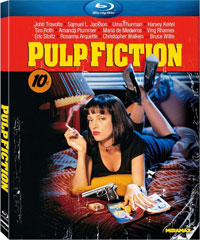 Lionsgate Home Entertainment has added Quentin Tarantino's cult hit Pulp Fiction to their release line-up, bringing the movie to Blu-Ray Disc for the first time this October.
A pair of low-rent hit men, Vincent Vega (John Travolta) and Jules Winnfield (Samuel L. Jackson), are sent out to collect a stolen briefcase for their mob boss employer, Marsellus Wallace (Ving Rhames). Having proven himself worthy, Wallace then entrusts Vincent to entertain his wife, Mia (Uma Thurman), while he is out of town. Meanwhile, Wallace has paid off aging boxer Butch Coolidge (Bruce Willis) to throw his next fight. The lives of these wildly entertaining characters intertwine with unexpected and violent consequences.
The release, featuring a 1080p high definition transfer with DTS 5.1 HD Master Audio will be jam-packed with bonus materials also, and include all-new Retrospective Cast Interviews and the brand new featurette Critics Corner: Then and Now.
Also included is the featurette Pulp Fiction: The Facts and a selection of Deleted Scenes, along with Behind the Scenes Montages and a Production Design Featurette.
Further, look for Siskel and Ebert "At the Movies" – The Tarantino Generation, a look at the Independent Spirit Awards, the Cannes Film Festival – Palm d'Or Acceptance Speech, the Interview with Quentin Tarantino on the Charlie Rose Show, Theatrical Trailers and TV Spots and a Stills Gallery.
"Pulp Fiction" arrives on October 4 for only $19.99.