Blue Underground digs into the Fulci vault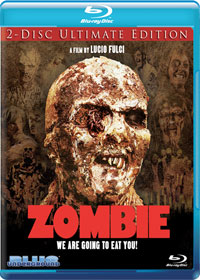 Blue Underground is preparing a few very cool releases for fans of Italian cult director Lucia Fulci, bringing The House by the Cemetery and Zombie to Blu-Ray this fall.
In The House by the Cemetery, a young family moves from their cramped New York City apartment to a spacious new home in New England. But this is no ordinary house in the country: the previous owner was the deranged Dr. Freudstein, whose monstrous human experiments have left a legacy of bloody mayhem. Now, someone – or something – is alive in the basement, and home sweet home is about to become a horrific hell on earth.
With a brand new high definition transfer, the film will, no doubt, look better than ever and the release will also include a bounty of bonus materials, such as Interviews with Stars Catriona MacColl, Paolo Malco, Giovanni Frezza, Silvia Collatina, Dagmar Lassander, Carlo De Mejo, Co-Writers Dardano Sacchetti and Elisa Briganti and Cinematographer Sergio Salvati. A Special Make-Up Featurette is also included, featuring Effects Artists Giannetto De Rossi & Maurizio Trani, Special Effects Artist Gino De Rossi, and Actor Giovanni De Nava. The release will also contain a Deleted Scene and the movie's Theatrical Trailers, TV Spot and a Poster & Still Gallery.
Fulci's masterpiece Zombie will arrive as a 2-disc set on Blu-Ray Disc. In Italy, it was considered the "unofficial sequel" to DAWN OF THE DEAD. In England, it was known as ZOMBIE FLESH EATERS and banned as obscene. In America, it was called ZOMBIE and advertised with the depraved tag line "WE ARE GOING TO EAT YOU!" Tisa Farrow (THE GRIM REAPER), Ian McCulloch (CONTAMINATION), Al Cliver (CANNIBALS), and Richard Johnson (THE HAUNTING) star in this worldwide splatter sensation directed by "Maestro Of Gore" Lucio Fulci that remains one of the most eye-skewering, skin-ripping, gore-gushingly graphic horror hits of all time!
This release will feature a new 2K High Definition transfer from the original uncut and uncensored camera negative. Each flesh-eating frame has been lovingly restored to skull-rotting perfection under the supervision of Cinematographer Sergio Salvati. The release will contain an Introduction by Guillermo del Toro, as well as a Commentary Track with Star Ian McCulloch and Diabolik Magazine Editor Jason J. Slater. A series of Interview Featurettes will be part of the release, featuring Stars Ian McCulloch, Richard Johnson & Al Cliver, and Actor/Stuntman Ottaviano Dell'Acqua, as well as Co-Producer Fabrizio De Angelis, Co-Writers Elisa Briganti and (Uncredited) Dardano Sacchetti, Cinematographer Sergio Salvati and Production & Costume Designer Walter Patriarca, Special Make-Up Effects Artists Gianetto De Rossi & Maurizio Trani and Special Effects Artist Gino De Rossi, Composer Fabio Frizzi and Antonella Fulci.
Also part of the release is "Zombie Lover" in which award-winning Filmmaker Guillermo del Toro talks about one of his favorite films. The release is rounded out by Theatrical Trailers, TV Spots and Radio Spots as well as a Poster & Still Gallery.
"The House by the Cemetery" will arrive on Blu-Ray Disc on September 27 for $29.98, while the most-eagerly awaited Zombie arrives on October 25 for $39.98.