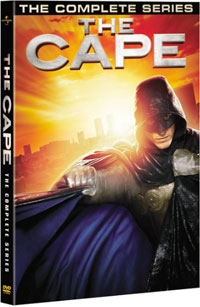 Universal Home Entertainment has added The Cape to their line-up, bringing the complete TV series to DVD in July.
He's righteous. He's heroic. He's The Cape. Vince Faraday (David Lyons) is an honest cop on a corrupt police force. But when he's framed for murder and presumed dead, he finds that he must go into hiding, leaving behind his wife, Dana (Jennifer Ferrin), and son, Trip (Ryan Wynott). Determined to battle the criminals who now control his hometown, Vince takes the law into his own hands and becomes The Cape—his son's favorite comic book superhero.
"The Cape" arrives on two discs, featuring all episodes from the TV show in an anamorphic widescreen presentation with Dolby Digital 5.1 audio. No bonus materials will grace the release, however.
"The Cape" takes on evil on July 5.