Warner sends in The Specialist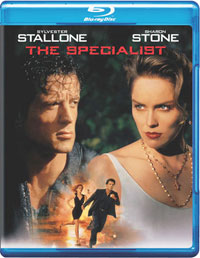 Warner Home Video has added the Sylvester Stallone actioner The Specialist for release on Blu-Ray in August.
May Munro (Sharon Stone) is a drop-dead beauty with a fatal past. She's sworn death to the mobsters who murdered her parents and she also knows the right man for the job: ex-CIA explosives expert Ray Quick (Sylvester Stallone). Miami's playground of the rich becomes an incendiary slayground as May lures the killers and Ray ingeniously detonates them into ashes. But a vicious mob boss (Rod Steiger), his brash son (Eric Roberts) and a psychotic hired gun (James Woods) with a lethal grudge against Quick won't go without a fight. And the feverish passions shared by the two avengers can't hide an ominous question from Ray. Is May falling for him… or is she setting him up too?
The release will feature a 1080p high definition transfer with DTS 5.1 HD Master Audio track. The only extra included will be the movie's Theatrical Trailer.
"The Specialist" will kick into high gear on August 16 for $19.98.