Brace yourself for eight discs of high def Superman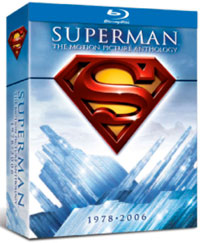 Superman, the cultural icon and quintessential superhero, is back in a big way. In a powerhouse year marked by the theatrical releases of several major superhero films including Warner Bros.' "Green Lantern," his arrival couldn't be more perfectly timed.
Warner Home Video is celebrating the year of the superhero with the June 7 release of Superman: The Motion Picture Anthology (1978-2006) on Blu-ray Disc.
For the first time, fans will be able to own one super-entertaining Blu-ray collection with all four original theatrical Superman films starring Christopher Reeve (available for the first time in high def), Superman Returns, and the two alternate versions of Superman I and Superman II.
 
Available now in superb hi-def, with new digital/hi-def film masters, the must-own comprehensive "Superman: The Motion Picture Anthology (1978-2006)" on Blu-ray includes all six versions of the films in the original Superman theatrical franchise — Superman: The Movie – Original Theatrical, Superman:  The Movie – Expanded Edition, Superman II – Original Theatrical, Superman II – The Richard Donner Cut, Superman III – Original Theatrical, Superman IV – Original Theatrical, plus Superman Returns. The Collection also boasts 20 hours of bonus features including the never-before-seen original opening to Superman Returns. Also included are two documentaries in hi-def, Look, Up in the Sky! The Amazing Story of Superman and The Science of Superman, as well as You Will Believe: The Cinematic Saga of Superman, deleted scenes, and much more.
Fan-boys and technophiles will especially appreciate that all of the Superman films are being released with English DTS-HD-MA soundtrack for superior sound quality.
The eight-disc collection will be available for $129.95.