August is Sylvester Stallone month on Blu-Ray!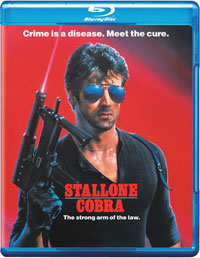 Warner Home Video has added Cobra, The Specialist, Assassins and Demolition Man to their release line-up, bringing all these Sylvester Stallone movies to Blu-Ray Disc in August for the first time.
Like Sylvester Stallone's "Rocky" and "Rambo," the hero of "Cobra" is another original: Lt. Marion Cobretti, a one-man assault force whose laser-mount submachine gun and pearl-handled Colt .45 spit pure crimestopping venom. Director George P. Cosmatos (Rambo: First Blood Part II, Tombstone) rejoins Stallone for this thriller pitting Cobretti against a merciless serial killer. The trail leads to not one murderer but to an army of psychos bent on slashing their way to a "New Order" – and killing the inadvertent witness (Brigitte Nielsen) to their latest blood spree. Fortunately, Cobra is her protector. And full-throttle screen excitement doesn't get any better.
The release will feature a 1080p high definition transfer with DTS 5.1 HD Master Audio ad a Commentary Track by Director George P. Cosmatos. Also included is a Making-of Featurette and the movie's Theatrical Trailer.
Sylvester Stallone and Wesley Snipes go at it amid a dazzling cyber-future in the explosive hit Demolition Man. In 2032 arch-criminal Simon Phoenix (Snipes) awakens from a 35-year deep freeze in CryoPrision to find a serene, non-violent Los Angeles ready for the taking. Unable to deal with Phoenix's brutal 1990s style, officials seek an old-fashioned cop to fight old-fashioned crime. They revive Sgt. John Spartan (Stallone), unjustly serving a CryoPrison sentence because of his last encounter with Phoenix.
The release, featuring a 1080p high def transfer with DTS 5.1 HD Master Audio will also include a Commentary Track by Director Marco Brambilla and Producer Joel Silver, along with the movie's Theatrical Trailer.
In Richard Donner's Assassins, Robert Roth (Sylvester Stallone) is the best hitman around but the code and sense of duty once part of his deadly career are lost in a post-Cold War world of free-lance guns. He wants out. Not so Miguel Bain (Antonio Banderas), a driven killer who knows how to claim the top spot of his shadowy profession: eliminate Roth. Julianne Moore turns up the heat as a wily hacker swept into the duo's running battle. This awesome action tale plunges you into a world where what counts isn't making the first move, but surviving the last.
The release features a high definition presentation but will include only the film's Theatrical Trailer as a bonus.
As announced before, The Specialist is arring on Blu-Ray, too, featuring May Munro (Sharon Stone),a drop-dead beauty with a fatal past. She's sworn death to the mobsters wh o murdered her parents and she also knows the right man for the job: ex-CIA explosives expert Ray Quick (Sylvester Stallone). Miami's playground of the rich becomes an incendiary slayground as May lures the killers and Ray ingeniously detonates them into ashes. But a vicious mob boss (Rod Steiger), his brash son (Eric Roberts) and a psychotic hired gun (James Woods) with a lethal grudge against Quick won't go without a fight. And the feverish passions shared by the two avengers can't hide an ominous question from Ray. Is May falling for him…or is she setting him up too?
The release features a high definition presentation but will include only the film's Theatrical Trailer as a bonus.
All four movies will be in stores on August 18 for $19.98, each.