The Wanted Extraterrestrial Known as Roger Has Been Captured!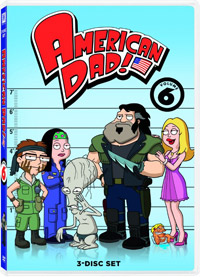 Agents from Twentieth Century Fox Home Entertainment closed in on the elusive extraterrestrial named Roger. He was found residing at the home of CIA agent Stan Smith, star of the animated comedy American Dad. Imagine our surprise!
Smith has been harboring Roger in Langley Falls, VA where he lives with his not-so-smart wife Francine, his liberal hippie daughter Hayley, geeky yet cocky son Steve and a unique talking goldfish named Klaus. Video Surveillance of Roger and the entire Smith clan will be released on 19 April 2011 on the "American Dad" Volume 6 DVD.
"American Dad" Volume 6 includes all eighteen hilarious episodes of Season 5, uncensored and loaded with extras including Deleted Scenes and Audio Commentary. Volume 6 is available on DVD April 19.
*Please use caution with Roger as he is a known master of disguise and has recently been seen impersonating a jockey, a police officer and even the leader of a small island nation.