The Soldier goes to war in July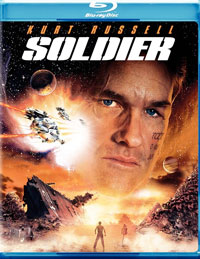 Warner Home Video has added a Blu-Ray Disc version of the 1998 scifi action flick The Soldier, starring Kurt Russell, to their line-up, bringing it to store in July.
Galactic wars of the near-future are fought by soldiers trained as merciless, obedient warriors. But times change. New bioengineered combatants make veterans like Sgt. Todd (Kurt Russell) obsolete. But don't expect to toss Todd on the scrap heap without a fight.
Fans of explosive sci-fi sagas get their viewing orders with this hotwired-to-tomorrow adventure written by David Webb Peoples (Blade Runner, Unforgiven) and directed by Paul Anderson (Death Race, Resident Evil: Afterlife). Spectacular in scale, Soldier backs its searing action with a startling vision in which mammoth "crawler" vehicles roam, planetary outcasts survive amid the jetsam of Earth's past and technology is almost beyond human control. It's a vision that's more than an eerie future. It's a total combat zone.
The release will feature a Commentary Track by Director Paul Anderson, Co-Producer Jeremy Bolt and Co-Star Jason Isaacs, as well as the movie's Theatrical Trailer.
"The Soldier" gets ready for action on July 26 for $19.98.