Steve McQueen's Le Mans speeds to home video in May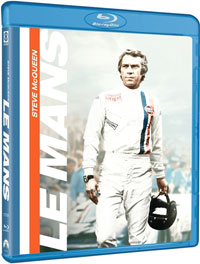 Paramount Home Entertainment has added the racing movie Le Mans to their line-up, scheduling a DVD and Blu-Ray Disc release of the film in May.
Forty-five international racing stars join Steve McQueen in the gritty, nerve-shattering re-creation of the toughest car race on earth – Le Mans. Returning to France to compete a year after he's been injured , an American driver (McQueen) finds himself drawn to the widow of a racer who was killed in the same accident. Filmed on location in France, the film's spellbinding cinematography provides a dazzling look at the world's most extraordinary cars and the unique personalities of the people drawn to the race car circuit. Steve McQueen, himself a championship racer, did most of his own driving on the harrowing 8.5 mile Le Mans course – often at speeds exceeding 200 miles per hour.
The DVD version features an anamorphic widescreen version of the film with Dolby Digital 5.1 audio. As extras the release will include the Making-Of Featurette " Filming at Speed" and the movie's Theatrical Trailer.
On the Blu-Ray Disc you will find a 1080p high definition transfer, complemented by a DTS 7.1 HD Master Audio track. It will contain the same supplements as the DVD version.
"Le Mans" will be in stores on May 24.