Scarface will get serious in September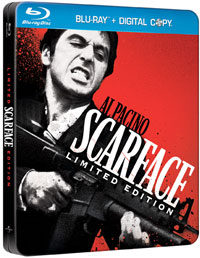 Universal Home Entertainment has just released info about an upcoming Blu-Ray Disc version of Scarface, scheduled for release in September.
In the spring of 1980, the Mariel boatlift brought thousands of Cuban refugees to the sun-washed avenues of Miami in search of the American dream. From acclaimed director Brian DePalma, Scarface is the rags-to-riches story of Tony Montana (Al Pacino), who finds wealth, power and passion beyond his wildest dreams…at a price he never imagined. Tony Montana's meteoric rise, lavish life and soul-destroying fall anchor an epic film that inspired a worldwide following. Pacino is at his most memorable as Montana, blasting his way to the top of Miami's drug underworld in a bravura performance.
Loaded with extras, the release will contain The Scarface Phenomenon, an all-new documentary that presents "Scarface" as a unique phenomenon in cinema history.  It explores how a film plagued by controversy leading up to its release has become a Hollywood classic, influencing a whole new generation of filmmakers and leaving a lasting imprint on popular culture.
Also included are Deleted Scenes and the The World of Tony Montana, a featurette in which you can experience the world of the ultimate gangster and hear from experts on the real world violence, fear and paranoia that surrounds a drug lord.
The Rebirth allows Director Brian De Palma, producer Martin Bregman, actor Al Pacino, and screenwriter Oliver Stone to revisit the history of "Scarface," from the inspiration of the original Howard Hawks classic to the evolution of the script In The Acting, join the filmmakers, Al Pacino and Steven Bauer to discover how each of the roles was cast and how Brian De Palma worked with his actors to get unforgettable performances.
The Creating is a fascinating, controversial and definitive journey through the making of the film, which began with the production being forced to leave its initial location in Florida. Discover how the chainsaw scene was filmed, learn about the production design, the photography, and the struggle to get the film an "R" rating.
Also included is Scarface: The TV Version, a revealing and hilarious montage of film clips comparing the theatrical version to the network television version of the movie, as well as The Making of Scarface: The Video Game.
Also included is the Scarface Scoreboard, allowing you to watch "Scarface" like never before.  Keep track of the number of times the "F" word is used and monitor the bullets fired!
A Picture in Picture Track is included on the disc also, giving you access to  interview footage of Brian De Palma, Al Pacino, Screenwriter Oliver Stone, and others without interruption to the movie experience.   Also featured is a Scene Comparison between the 1983 version of Scarface and Howard Hawks' original film.
"Scarface" is scheduled for release on September 6