Warner schedules an Arthur double-feature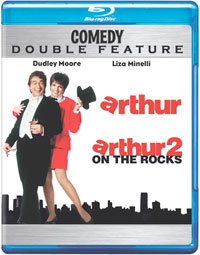 Warner Home Video has announced a double-feature Blu-Ray Disc that will feature the Dudley Moore comedies Arthur and Arthur 2.
Dudley does right! Dudley Moore is Arthur, the irrepressible, irresponsible playboy who faces marriage to a woman he detests to keep his fortune…and then meets the right woman (Liza Minnelli) from the wrong side of the tracks. John Gielgud won an Academy Award® (1981's Best Supporting Actor) as Arthur's acerbic valet. "I'll alert the media," he says when Arthur announces his intention to take a bath. The title tune also won Oscar® gold for Original Song. A business deal bilks Arthur out of his fortune and he must (egad!) get a job in the sequel Arthur 2 on the Rocks. But laughs are still the common currency as Moore, Minnelli and Gielgud return. Enjoy!
Mark April 5 in your calendars, because that's when this release will arrive in a store near you for only $19.98.