The Cat O'Nine Tails arrives on Blu-Ray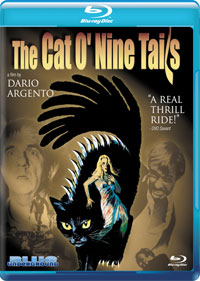 Blue Underground has another Dario Argento classic in the works, bringing The Cat O'Nine Tails to Blu-Ray Disc in May.
When a simple robbery at a research institute leads to a series of brutal murders, a blind puzzle maker (Academy Award winner Karl Malden) and a tenacious reporter (James Franciscus) begin their own investigation of the crimes. With nine different clues to follow, they uncover a shocking web of twisted genetics and dark sexual secrets that will finally lead them to a shattering climax of violence and suspense.
Originally released in 1971, "The Cat O'Nine Tails" secured the international reputation of director Dario Argento as "The Italian Hitchcock." This is the definitive version of Argento's masterful second film, presented completely uncut and uncensored in a brand-new High Definition transfer from its original camera negative!
The release will also contain the Interview Featurette Tales Of The Cat, featuring Writer/Director Dario Argento, Co-Writer Dardano Sacchetti, and Composer Ennio Morricone. Also included are Radio Interviews with stars James Franciscus and Karl Malden, as well as Theatrical Trailers, TV Spots and Radio Spots.
"The Cat O'Nine Tails" will make its high definition debut on May 31 for $29.98.